More Products >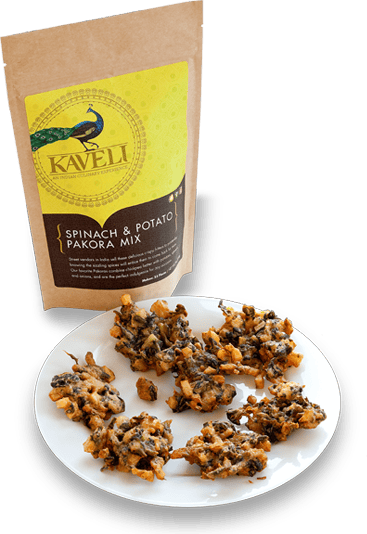 Spinach & Potato Pakora
Street vendors in India sell these delicious crispy fritters to passersby, knowing the sizzling spices will entice them to come back for more. Our favorite Pakoras combine chickpea batter with potatoes, spinach, and onions, and are the perfect indulgence for any occasion.
$12.95
Vegan
All Natural
Gluten Free
Makes: 55 Pieces
What's Included?
Besan flour, mango powder, whole cumin seeds, red chili powder, garam masala, baking powder, salt and turmeric
What Do I Provide?
Potatoes, an onion, a box of frozen spinach, vegetable oil and water
Helpful Tips:
Variation:

Make it your own and be creative! Once you make the batter, feel free to mix in any other of your favorite vegetables combinations, or just dip single vegetables in the batter.

Tip #1:

To test the oil to see if it is hot enough, just drop in a little bit of the prepared pakora mix in to the oil. If it rises rapidly and really sizzles and bubbles, the oil should be ready. (If it rises slowly or stays at the bottom, it is not yet hot enough).

Tip #2:

Always drop the spoonfuls of batter in away from you and from a close distance so you don't get splashed or burned by any of the hot oil.

Tip #3:

If the oil starts to smoke or the pakoras are turning black, reduce the heat, and wait until the oil has slightly cooled, then resume.

Tip #4:

If the pakoras are not cooked through in the middle, but nicely browned on the outside, reduce the heat slightly and fry a little longer.

Tip #5:

Pakoras can be refrigerated or frozen and easily reheated in the oven (at 375 degrees for about 10 minutes, or until crispy), or by microwave, (heat for 20-30 seconds), then crisp them up over the stovetop on a dry skillet.
Shopping Suggestions
This pairs well with the following products:
Vijay's Masala Chicken & Rice Palau Mix
Besan Almond Shortbread
Masala Chai