More Products >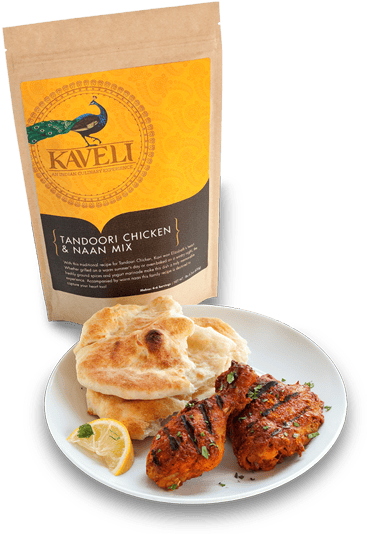 Tandoori Chicken & Naan Mix
With this traditional recipe for Tandoori Chicken, Kavi won Elizabeth's heart. Whether grilled on a warm summer's day or oven-baked on a wintry night, the freshly ground spices and yogurt marinade make this dish a truly memorable experience. Accompanied by warm naan this family recipe is destined to capture your heart too!
$18.95 On Sale!
Makes: 4-6 Servings
What's Included?
The flour needed to make fresh naan, a packet of yeast, cloves, black cardamom pods, coriander seeds, cumin seeds, fennel seeds, whole black peppercorns, Indian bay leaves, a cinnamon stick, red chili powder, turmeric, asafoetida, salt and a pinch of tandoori color, and a little packet of candied fennel as a special treat for after your meal.
What Do I Provide?
Chicken, fresh garlic, fresh ginger, plain yogurt, lemon juice, olive oil, tomato paste, sugar, water, milk and butter
Helpful Tips
Tip #1:

Freezing tomato paste- There is no need to waste excess tomato paste, you can easily freeze it for another time! All you have to do once you have taken the amount you need is:
1. Open the bottom end of the can (so now both the top and bottom are cut through).
2. Push the lid in, (so the paste slides out of the bottom of the can) and into a plastic freezer bag.
3. Freeze and have on hand for you next Kaveli products!


Tip #2:

Peeling ginger- Ginger is actually very easy to peel and you waste very little when you use the edge of a spoon. The skin is thin and scrapes off easily. Some people use a common vegetable peeler to peel ginger. However, using a peeler will create more waste than is necessary. When using a spoon, simply scrape the ginger with the inside of the spoon, making sure you get the edge of the spoon into the crevices of the ginger.

Tip #3:

Freezing ginger- You can also freeze any extra ginger! Here are two different ways you can do it:
FREEZE READY TO USE: Peel and chop the ginger root all at once. Then place the chopped ginger in a sheet of plastic wrap and freeze. It will be ready to go when you need it for your next Kaveli product!
FREEZE WHOLE: Place the entire root in a freezer bag (we like to peel it first). When needed, just take it out of the freezer and grate what you need. Freezing will darken the flesh just a little, but it will not hurt the flavor and actually makes it easier to grate or chop.

Variation: Make Tandoori Kebabs!

Just substitute the chicken thighs and legs with chicken breasts. Cut the breasts into pieces before marinating, and then skewer them with some onions and peppers! (You can also try this with Shrimp, Tofu or Paneer).
Shopping Suggestions
This pairs well with the following products:
Spinach & Potato Pakora
Rice Palau
Kali Daal
Besan Almond Shortbread